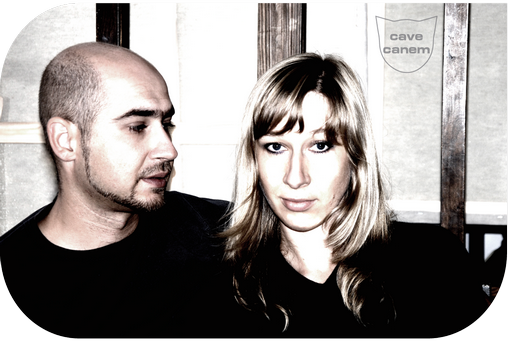 The Cave Canem Studio deals mainly in the design of glass products.
Colour is an important medium of this expression. The work is further supplemented by an endeavour for innovation of traditional methods.
The product line consists especially of apllied shapes such as vases, bowls and glasses; but original glass accessories and paintings are also produced.
Entirely handmade, small quantity production is the primary focus of the studio; however, execution of large-scale projects to equip public or private spaces with original glass products and paintings is also possible.
The Cave Canem project is the creation of
Petra Kucerova and Jiri Kucera
Petra Kucerova, born in 1975, studied at the High School of Applied Arts for Glassmaking in Zelezny Brod. She devotes herself mainly to glass painting. These days she is interested especially in experimentations with covering of surfaces with staining. Process itself is very workmanship-intensive. She seeks for new nontraditional techniques and working processes.
Elementary geometrical shapes, dynamical curves and organic features belong among her favourite expressions.
Jiri Kucera, born in 1974, studied at Academy of fine arts in Prague. On a long term basis he deals with landscape theme. His works are inspired by graphic map features. Abstract ground plans of human dwellings, water springs, borders and roads are some kinds of orientation points which occure in his pictures. He inserts his own shapes into the map, he changes its colourfulness and expands symbolic language of specific place's picture and meaning.
Our products can be found for example in Prague's city center shops:
Feel free to contact us with Your enquiries.
e-mail: caveinfo(at-s)seznam.cz
tel: + 420 736 148 217